30 06 13 - 14:41 Used tags: doom3, grimm
The final free version of Grimm is released! You need Doom 3 1.3.1 to play. To read the full press release click "Read More". Head over to moddb.com to download! Full source code is included with the mod. Be sure to leave feedback!
It is 19.29pm at the 30th of June and as promised the final build is uploading to Moddb!
It may take a while for the files to be approved and I will sit back and enjoy some well earned rest in the meantime!

I want to thank Justin Lassen for the most gorgeous and dark soundtrack for Grimm. His sound always grabs me and he captures the mix between Gothic and Persian influences in a truly unique manner. Grimm is not the only game he writes music for, go check out some of his other work as well. Justin, I can't thank you enough!
I want to thank Sikk for his cool work on Sikkmod, it really adds flavour to Grimm, thanks!!!

Screens!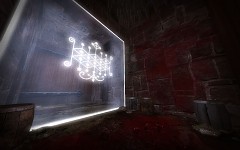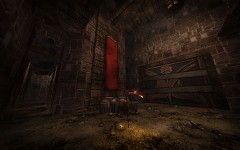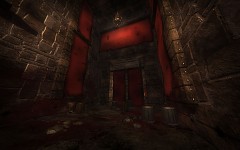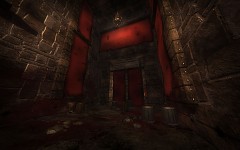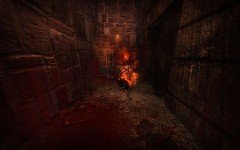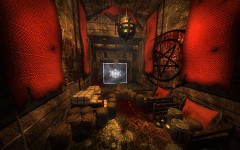 This release offers many new features and gameplay elements over the first releases, as well as bug fixes and again an hour extra gameplay. It features new enemies, new weaponry and new maps.

Are you ready? Then download it now!

In order to help you on your adventures in Grimm I have compiled 5 tutorials that will help you understand the traps, weapons and enemies in Grimm, including the introduction to some advanced gameplay techniques and skills you must learn in order to defeat the minions of evil. Please take some time to read them as they contain important information about running and configuring Grimm.

Starting Grimm and Configuring Advanced Graphical Options
Grimm Strategy and Survival Guide: General Guide
Grimm Strategy and Survival Guide: Difficulty Levels Explained
Grimm Strategy and Survival Guide: Enemies and Weaponry
Grimm Strategy and Survival Guide: Traps and Pitfalls

If you run into any bugs then I would be very much obliged if you would take the time to post about them and explain in the post what happened before you ran into the bug. This way I can try to reproduce any issues and fix them, I love hearing feedback from you guys and girls so don't be shy and let me hear from you!

Important: Grimm does not run on the BFG edition of Doom 3, it does run on all other regular and steam versions.
Most importantly I wish you the very best of fun while playing Grimm!

If there are any coding/scripting questions I'll be happy to answer them here.
The full source code is included in the download!
No comments