21 01 14 - 07:17 Used tags: alienarena, generation3, gpl
COR is showing off the new and improved Generation 3 Cyborg. Looks pretty sweet! I can't wait to get my hands on these Gen 3 baddies! Click "Read More" to see the pic!
Alien Arena is a free FPS originally built on the Quake 2 engine. It's got deathmatch, capture the flag, vehicles and so much more! Check out their website for all the skinny and downloads!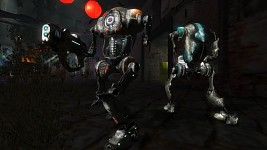 69 comments