04 04 14 - 05:03 Used tags: doom, doom2, doom3, reborn
You can get a gameplay test of the map E1M7 from the Doom Reborn mod. It has all the items and entities places, just needs some tweaking. Plus secrets. You can get the map over at moddb.com.
Doom Reborn is a mod for Doom 3 that recreates Doom and Doom 2 in the much prettier sequel. You can find more info over at it's game page on modb.com.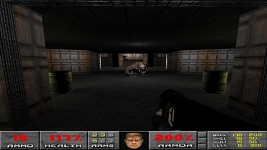 643 comments