09 07 15 - 10:48 Used tags: bfg, doom3 Tweet
It includes RBDoom3BFG, the Perfected Doom 3 Texture Pack, the Wolfen Texture Pack, the Monoxead Texture Pack, the AAA Doom High Poly Models, Phrozo Effects and various tweaks. It also has it's own installer. No gameplay changes, just graphics fidelity enhancements!
You can read about it on moddb.com and download it here.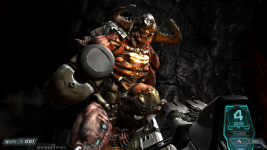 One comment