19 08 15 - 10:36 Used tags: gpl, iqe, iqm, quake, quake2, tool, ya3dag Tweet
What is IqeBrowser? IqeBrowser is a program to browse IQE, IQM (Inter-Quake Model format) and many other 3D models. Any 3D model can be saved as IQM (a binary format) or IQE (a text format) file. Some model processing tools are integrated to resize, shift, rotate, reskin ... the model and also to create/ modify skeletons or animations.
IQM/IQE is a format supported in the Darkplace engine (Quake) and Yet Another 3D Adventure Game (Quake 2).
The latest feature is animation re-targeting, so you can take (for example) a walk animation from one character and apply it to another character. You can download the latest version from moddb.com and be sure to check out the authors project YA3DAG!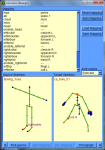 No comments