04 01 16 - 11:56 Used tags: gpl, overdose, quake2
It's been a while but Overdose has some news about tools and engine upgrades. I don't want to post all the info here (as it's a lot) but, to sum it up: they've got a new custom Radiant, game code as been added to let the player fire & reload, UI's been updated, completely updated sound system (remember, Q2 came out almost two decades ago!), and a fully scriptable particle & FX system.
You can read all the details over at their moddb.com page. By the way, they're not going to keep their own domain & webpage any more, they found that almost noone used it so they feel it's not worth the money.
OverDose is a class, team& objective based multiplayer game set on a post apocalyptic Earth, were the Confederate Marine Corps and Marauders battle it out for supremacy over the destroyed cities of a war torn world. Using idTech2 as a base, we are writing our engine from the ground up to take advantage of modern day graphical options and details levels to bring you eye popping class based multiplayer mayhem. This isn't just war... Its an all out apocalypse!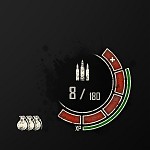 fourteen comments